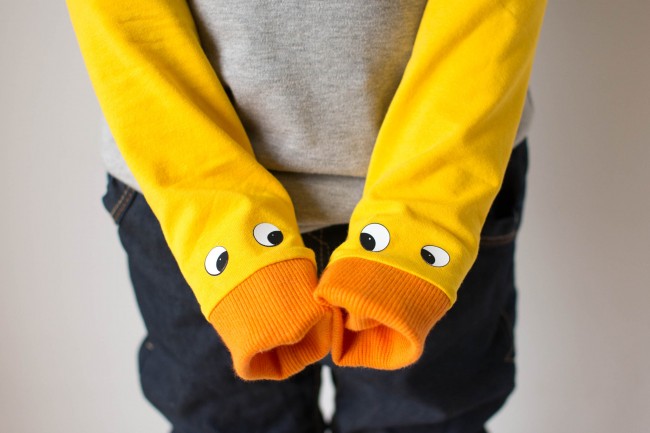 The Safari Raglan Tee and Dress is a comfortable fitting and versatile pattern. It can be used as an every day basic or custom designed for a one of a kind raglan. Choose from hemmed short or long sleeves, or for a raglan with a difference use your creativity to add some puppet sleeves that your children will adore. Contrast patch pockets add additional detail.
This raglan is perfect all year round for both girls and boys. It is suitable for a confident beginner. It provides a great introduction to sewing with knit fabrics. The Safari Raglan pattern covers a wide range of sizes - from 6-12 months to 12 years.
The pattern includes the following options:
Tee or Dress
Short or long sleeves with regular hem.
Puppet sleeve option on the long sleeves
Optional chest pocket on the tee, front patch pockets on the dress.
The pattern shows you how to make the basic shape of a puppet sleeve, but the creative part is up to you - let your imagination run wild.
The hood and kangaroo pocket from the <a href='/patterns/rowan-tee'>Rowan Tee</a> could also be added if you own that pattern.
High quality pattern and tutorial contains all the standard <a href='/pages/features'>Titchy Threads Pattern Features</a>.
Projector File also available.
<i>Images in the listing include some photographs taken by <a href='http://inamannerofsewing.blogspot.pt/'>Andreia Salgueiro</a></i>.